ABMTRR History

The ABMTRR was established in 1992 to record details of bone marrow, peripheral blood and later cord blood stem cell transplants in Australia. New Zealand began contributing data in 1998.  The ABMTRR was located in a converted terrace owned by St Vincent's Hospital in Darlinghurst, Sydney, sharing the premises with
BMT Network NSW
.  St Vincent's Hospital provides the administrative structure of Human Resources, Information Technology and support services.
Initially the ABMTRR was fully funded by the Arrow Bone Marrow Transplant Foundation. From 2001-2014, the Australian Bone Marrow Donor Registry (ABMDR) subsidised a collection of more detailed information for unrelated donor transplants. NSW Health contributed to the part time salary of a statistician from 2003-2010, through clinical initiative enhancement funding to the Greater Metropolitan Transitional Taskforce (GMTT), now the Agency for Clinical Innovation (ACI). Since July 2010 the ABMTRR has received operational funding from all Australian Governments, through the Commonwealth Department of Health and Ageing.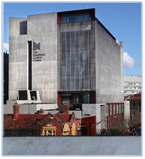 In October 2012 the ABMTRR office moved to The Kinghorn Cancer Centre in Victoria St, Darlinghurst. We now share a modern open plan office with research and clinical trials staff from St Vincent's Hospital Haematology and Oncology and the Garvan Institute of Medical Research.
ASTRO (Australasian Stem cell Transplant Registry Online) replaced the previous database system in 2013, helping to reduce paperwork and giving hospitals better access to their own data.